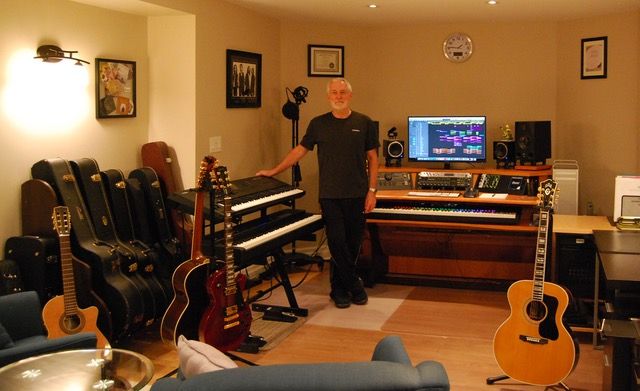 The Studio
I have a small, high-end recording studio in Guelph, Ontario, Canada, that is ideally suited to songwriters and performing musicians who want to record their own songs or covers, or create backing tracks for live performances.
I have acoustic and electric guitars, a Yamaha CP4 Stage Piano, a Yamaha Motif XF7 workstation, a wide range of microphones and excellent preamps.  I also have a huge library of MIDI instruments including grand pianos, keyboards, synthesizers, basses, drums, percussion, strings, brass, wind instruments, choirs and more.
Recording options range from simple one instrument / one voice songs to multi-track, multi-instrument productions.  Whatever your choice, you leave with a professional quality, fully mixed and mastered project playable on any media.
To hear music recorded and mixed in this studio, click on the blue songplayer bar at the bottom of this page or click on Listen above. And visit the Photos section to see more of the studio.
Contact me to set up a visit to see the studio and receive a free, no obligation consultation on how we could capture your music.
Click on Contact at the top to send me a message.
********************************
The Location:
Guelph, Ontario, Canada
********************************
The Rates:
$60 per hour, minimum two hours
Special discounts for multi-song projects
********************************